Welcome to my first Top 5 Saturday! This is a weekly challenge hosted by Devouring Books, and this week's challenge is about books with an animal on the cover.
In order to make my list, I first made a different list of all the books I've read and liked that have animals on the cover. And then I narrowed it down to my top five based on how much I like the story as well as the cover. Here's my list!
1. "Rain Reign" by Ann M. Martin
Genre:

Realistic fiction (middle-grade)

Summary:
"Rose Howard has Asperger's syndrome, and an obsession with homonyms (even her name is a homonym). She gave her dog Rain a name with two homonyms (Reign, Rein), which, according to Rose's rules of homonyms, is very special. Rain was a lost dog Rose's father brought home. Rose and Rain are practically inseparable. And they are often home alone, as Rose's father spends most evenings at a bar, and doesn't have much patience for his special-needs daughter.
Just as a storm hits town, Rain goes missing. Rose's father shouldn't have let Rain out. Now Rose has to find her dog, even if it means leaving her routines and safe places to search. Rose will find Rain, but so will Rain's original owners."
Overall Thoughts:

I love this book and this cover. It's such a great book about family, friendship, pets, and neurodiversity. I think this cover is absolutely stunning and I always recommend it to my students.

2. "If You Give a Mouse a Cookie" by Laura Numeroff
Genre:

Children's literature

Summary:
"If a hungry little traveler shows up at your house, you might want to give him a cookie. If you give him a cookie, he's going to ask for a glass of milk. He'll want to look in a mirror to make sure he doesn't have a milk mustache, and then he'll ask for a pair of scissors to give himself a trim….
The consequences of giving a cookie to this energetic mouse run the young host ragged, but young readers will come away smiling at the antics that tumble like dominoes through the pages of this delightful picture book."
Overall Thoughts:

A classic children's book! I couldn't resist including this one. It's one of my favorites from my childhood, and it has an iconic cover with an animal!




3. "The Curious Incident of the Dog in the Night-Time" by Mark Haddon
Genre:

YA Fiction

Summary:
"Christopher John Francis Boone knows all the countries of the world and their capitals and every prime number up to 7,057. He relates well to animals but has no understanding of human emotions. He cannot stand to be touched. And he detests the color yellow.
Although gifted with a superbly logical brain, for fifteen-year-old Christopher everyday interactions and admonishments have little meaning. He lives on patterns, rules, and a diagram kept in his pocket. Then one day, a neighbor's dog, Wellington, is killed and his carefully constructive universe is threatened. Christopher sets out to solve the murder in the style of his favourite (logical) detective, Sherlock Holmes. What follows makes for a novel that is funny, poignant and fascinating in its portrayal of a person whose curse and blessing are a mind that perceives the world entirely literally."
Overall Thoughts:

This book is kind of like the "young adult cousin" of Rain Reign. The cover is simple but intriguing, and I think the upside-down dog is clever. This is another great story about family, animal companionship, and neurodiversity.

4. "Life of Pi" by Yann Martel
"Life of Pi is a fantasy adventure novel by Yann Martel published in 2001. The protagonist, Piscine Molitor "Pi" Patel, a Tamil boy from Pondicherry, explores issues of spirituality and practicality from an early age. He survives 227 days after a shipwreck while stranded on a boat in the Pacific Ocean with a Bengal tiger named Richard Parker."
Overall Thoughts:

I read this one when I was in high school, but it's stuck with me for many years. It's a whimsical and at times intense story featuring many different animals and a boy's struggle to survive, and it makes you wonder what's real and what's not.




5. "Hoot" by Carl Hiaasen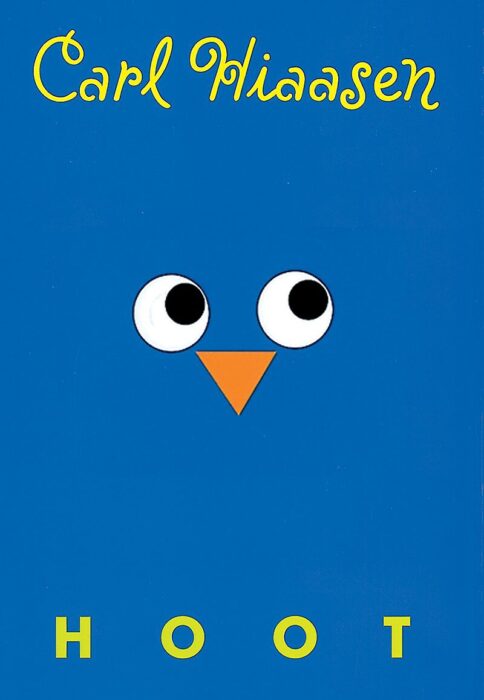 Genre:

Realistic fiction (middle-grade)

Summary:
"Unfortunately, Roy's first acquaintance in Florida is Dana Matherson, a well-known bully. Then again, if Dana hadn't been sinking his thumbs into Roy's temples and mashing his face against the school-bus window, Roy might never have spotted the running boy. And the running boy is intriguing: he was running away from the school bus, carried no books, and-here's the odd part-wore no shoes. Sensing a mystery, Roy sets himself on the boy's trail. The chase introduces him to potty-trained alligators, a fake-fart champion, some burrowing owls, a renegade eco-avenger, and several extremely poisonous snakes with unnaturally sparkling tails.
Roy has most definitely arrived in Carl Hiaasen's Florida."
Overall Thoughts:

Another one of my favorite middle-grade books. This story is so fun and unique and carries important themes about friendship and protecting our homes and the homes of animals. I also love the cover with the whimsical portrayal of the owls that are at the heart of this story.




Have you read any of these books? What would your top five be?
Let me know in the comments!