Welcome to Top 10 Tuesday! This is a weekly challenge hosted by That Artsy Reader Girl, and this week's challenge is about books for every color of the rainbow!
Originally, this post was supposed to be about book titles that sound like they could be Crayola crayon colors, but I really couldn't come up with anything for that! So instead, I decided to make a virtual rainbow out of book covers! Unfortunately, there are fewer than ten colors in the rainbow, but that just means I got to add in some extra ones! I definitely had to recite ROYGBIV in my head many times while coming up with this list in order to remember the colors and their order in the rainbow (does anyone else do this??). Also, most of these are books I've read and enjoyed, but a few of them are on my TBR! However, something they all have in common is that they all have stunning covers! Without further ado, here is my rainbow of books!
Red: "Concrete Rose" by Angie Thomas
Genre: YA Fiction
If there's one thing seventeen-year-old Maverick Carter knows, it's that a real man takes care of his family. As the son of a former gang legend, Mav does that the only way he knows how: dealing for the King Lords. With this money he can help his mom, who works two jobs while his dad's in prison.
Life's not perfect, but with a fly girlfriend and a cousin who always has his back, Mav's got everything under control.
Until, that is, Maverick finds out he's a father.
Suddenly he has a baby, Seven, who depends on him for everything. But it's not so easy to sling dope, finish school, and raise a child. So when he's offered the chance to go straight, he takes it. In a world where he's expected to amount to nothing, maybe Mav can prove he's different.
When King Lord blood runs through your veins, though, you can't just walk away. Loyalty, revenge, and responsibility threaten to tear Mav apart, especially after the brutal murder of a loved one. He'll have to figure out for himself what it really means to be a man.
Orange: "There There" by Tommy Orange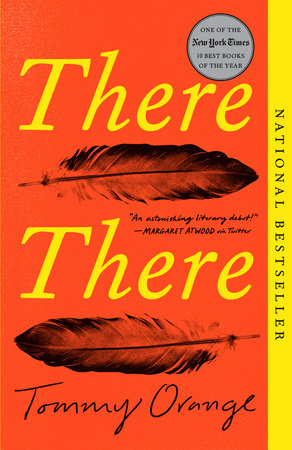 Genre: Fiction
Tommy Orange's wondrous and shattering novel follows twelve characters from Native communities: all traveling to the Big Oakland Powwow, all connected to one another in ways they may not yet realize. Among them is Jacquie Red Feather, newly sober and trying to make it back to the family she left behind. Dene Oxendene, pulling his life together after his uncle's death and working at the powwow to honor his memory. Fourteen-year-old Orvil, coming to perform traditional dance for the very first time. Together, this chorus of voices tells of the plight of the urban Native American–grappling with a complex and painful history, with an inheritance of beauty and spirituality, with communion and sacrifice and heroism. Hailed as an instant classic, There There is at once poignant and unflinching, utterly contemporary and truly unforgettable.
Yellow: "The House of Broken Angels" by Luis Alberto Urrea
Genre: Realistic Fiction
The definitive Mexican-American immigrant story, a sprawling and deeply felt portrait of a Mexican-American family occasioned by the impending loss of its patriarch, from one of the country's most beloved authors.
Prizewinning and bestselling writer Luis Urrea has written his Mexican coming-to-America story and his masterpiece. Destined to sit alongside other classic immigrant novels, The House of Broken Angels is a sprawling and epic family saga helmed by patriarch Big Angel. The novel gathers together the entire De La Cruz clan, as they meet for the final birthday party Big Angel is throwing for himself, at home in San Diego, as he nears the end of his struggle with cancer and reflects on his long and full life.
But when Big Angel's mother, Mama America, approaching one hundred, dies herself as the party nears, he must plan her funeral as well. There will be two family affairs in one weekend: a farewell double-header. Among the attendants is his half-brother and namesake, Little Angel, who comes face to face with the siblings with whom he shared a father but not, as the weekend proceeds to remind him, a life.
This story of the De La Cruzes is the story of what it means to be a Mexican in America, to have lived two lives across one border. It is a tale of the ravaging power of death to shore up the bits of life you have forgotten, whether by choice or not. Above all, this finely wrought portrait of a deeply complex family and the America they have come to call home is Urrea at his purest and best. Teeming with brilliance and humor, authentic at every turn, The House of Broken Angels cements his reputation as a storyteller of the first rank.
Green: "Love Is A Revolution" by Renée Watson
Genre: YA Fiction
When Nala Robertson reluctantly agrees to attend an open mic night for her cousin-sister-friend Imani's birthday, she finds herself falling in instant love with Tye Brown, the MC. He's perfect, except . . . Tye is an activist and is spending the summer putting on events for the community when Nala would rather watch movies and try out the new seasonal flavors at the local creamery. In order to impress Tye, Nala tells a few tiny lies to have enough in common with him. As they spend more time together, sharing more of themselves, some of those lies get harder to keep up. As Nala falls deeper into keeping up her lies and into love, she'll learn all the ways love is hard, and how self-love is revolutionary.
In Love Is a Revolution, plus size girls are beautiful and get the attention of the hot guys, the popular girl clique is not shallow but has strong convictions and substance, and the ultimate love story is not only about romance but about how to show radical love to the people in your life, including to yourself.
Blue: "Eleanor Oliphant Is Completely Fine" by Gail Honeyman
Genre: Realistic Fiction
No one's ever told Eleanor that life should be better than fine
Meet Eleanor Oliphant: she struggles with appropriate social skills and tends to say exactly what she's thinking. Nothing is missing in her carefully timetabled life of avoiding unnecessary human contact, where weekends are punctuated by frozen pizza, vodka, and phone chats with Mummy.
But everything changes when Eleanor meets Raymond, the bumbling and deeply unhygienic IT guy from her office. When she and Raymond together save Sammy, an elderly gentleman who has fallen, the three rescue one another from the lives of isolation that they had been living. Ultimately, it is Raymond's big heart that will help Eleanor find the way to repair her own profoundly damaged one. If she does, she'll learn that she, too, is capable of finding friendship—and even love—after all.
Smart, warm, uplifting, Eleanor Oliphant Is Completely Fine is the story of an out-of-the-ordinary heroine whose deadpan weirdness and unconscious wit make for an irresistible journey as she realizes. . .
the only way to survive is to open your heart.
Indigo: "Fruit of the Drunken Tree" by Ingrid Rojas Contreras
Genre: Fiction
In the vein of Isabel Allende and Gabriel Garcia Marquez, a mesmerizing debut set against the backdrop of the devastating violence of 1990's Colombia about a sheltered young girl and a teenage maid who strike an unlikely friendship that threatens to undo them both.
The Santiago family lives in a gated community in Bogotá, safe from the political upheaval terrorizing the country. Seven-year-old Chula and her older sister Cassandra enjoy carefree lives thanks to this protective bubble, but the threat of kidnappings, car bombs, and assassinations hover just outside the neighborhood walls, where the godlike drug lord Pablo Escobar continues to elude authorities and capture the attention of the nation.
When their mother hires Petrona, a live-in-maid from the city's guerrilla-occupied slum, Chula makes it her mission to understand Petrona's mysterious ways. But Petrona's unusual behavior belies more than shyness. She is a young woman crumbling under the burden of providing for her family as the rip tide of first love pulls her in the opposite direction. As both girls' families scramble to maintain stability amidst the rapidly escalating conflict, Petrona and Chula find themselves entangled in a web of secrecy that will force them both to choose between sacrifice and betrayal.
Inspired by the author's own life, and told through the alternating perspectives of the willful Chula and the achingly hopeful Petrona, Fruit of the Drunken Tree contrasts two very different, but inextricable coming-of-age stories. In lush prose, Rojas Contreras sheds light on the impossible choices women are often forced to make in the face of violence and the unexpected connections that can blossom out of desperation.
Violet: "You Should See Me in a Crown" by Leah Johnson
Genre: YA Fiction
Liz Lighty has always believed she's too black, too poor, too awkward to shine in her small, rich, prom-obsessed midwestern town. But it's okay — Liz has a plan that will get her out of Campbell, Indiana, forever: attend the uber-elite Pennington College, play in their world-famous orchestra, and become a doctor.
But when the financial aid she was counting on unexpectedly falls through, Liz's plans come crashing down . . . until she's reminded of her school's scholarship for prom king and queen. There's nothing Liz wants to do less than endure a gauntlet of social media trolls, catty competitors, and humiliating public events, but despite her devastating fear of the spotlight she's willing to do whatever it takes to get to Pennington.
The only thing that makes it halfway bearable is the new girl in school, Mack. She's smart, funny, and just as much of an outsider as Liz. But Mack is also in the running for queen. Will falling for the competition keep Liz from her dreams . . . or make them come true?
Pink: "I Am Malala" by Malala Yousafzai (with Christina Lamb)
Genre: Memoir
I come from a country that was created at midnight. When I almost died it was just after midday.
When the Taliban took control of the Swat Valley in Pakistan, one girl spoke out. Malala Yousafzai refused to be silenced and fought for her right to an education.
On Tuesday, October 9, 2012, when she was fifteen, she almost paid the ultimate price. She was shot in the head at point-blank range while riding the bus home from school, and few expected her to survive.
Instead, Malala's miraculous recovery has taken her on an extraordinary journey from a remote valley in northern Pakistan to the halls of the United Nations in New York. At sixteen, she has become a global symbol of peaceful protest and the youngest-ever Nobel Peace Prize laureate.
I Am Malala is the remarkable tale of a family uprooted by global terrorism, of the fight for girls' education, of a father who, himself a school owner, championed and encouraged his daughter to write and attend school, and of brave parents who have a fierce love for their daughter in a society that prizes sons.
Black: "Gone Girl" by Gillian Flynn
Genre: Thriller
Marriage can be a real killer.
On a warm summer morning in North Carthage, Missouri, it is Nick and Amy Dunne's fifth wedding anniversary. Presents are being wrapped and reservations are being made when Nick's clever and beautiful wife disappears from their rented McMansion on the Mississippi River. Husband-of-the-Year Nick isn't doing himself any favors with cringe-worthy daydreams about the slope and shape of his wife's head, but passages from Amy's diary reveal the alpha-girl perfectionist could have put anyone dangerously on edge. Under mounting pressure from the police and the media—as well as Amy's fiercely doting parents—the town golden boy parades an endless series of lies, deceits, and inappropriate behavior. Nick is oddly evasive, and he's definitely bitter—but is he really a killer?
As the cops close in, every couple in town is soon wondering how well they know the one that they love. With his twin sister, Margo, at his side, Nick stands by his innocence. Trouble is, if Nick didn't do it, where is that beautiful wife? And what was in that silvery gift box hidden in the back of her bedroom closet?
With her razor-sharp writing and trademark psychological insight, Gillian Flynn delivers a fast-paced, devilishly dark, and ingeniously plotted thriller that confirms her status as one of the hottest writers around.
One of the most critically acclaimed suspense writers of our time, New York Times bestseller Gillian Flynn takes that statement to its darkest place in this unputdownable masterpiece about a marriage gone terribly, terribly wrong. The Chicago Tribune proclaimed that her work "draws you in and keeps you reading with the force of a pure but nasty addiction." Gone Girl's toxic mix of sharp-edged wit and deliciously chilling prose creates a nerve-fraying thriller that confounds you at every turn.
White: "Impostors" by Scott Westerfeld
Genre: YA Fiction
Frey and Rafi are inseparable . . . two edges of the same knife. But Frey's very existence is a secret.
Frey is Rafi's twin sister-and her body double. Their powerful father has many enemies, and the world has grown dangerous as the old order falls apart. So while Rafi was raised to be the perfect daughter, Frey has been taught to kill. Her only purpose is to protect her sister, to sacrifice herself for Rafi if she must.
When her father sends Frey in Rafi's place as collateral in a precarious deal, she becomes the perfect impostor — as poised and charming as her sister. But Col, the son of a rival leader, is getting close enough to spot the killer inside her. As the deal starts to crumble, Frey must decide if she can trust him with the truth . . . and if she can risk becoming her own person.
With Impostors, master storyteller Scott Westerfeld returns with a new series set in a world full of twists and turns, rebellion and intrigue, where any wrong step could be Frey's last.
Have you read any of these books? What would your top ten be?
Let me know in the comments!