Travel Thursday is a weekly bookish meme that combines two of my favorite things: reading and traveling. The goal is to choose a book that took you somewhere new (or somewhere you'd like to visit again)!
I would love to read more about everyone else's literary travels as well! So here are some general guidelines for Travel Thursday if you'd like to participate!
The Rules:
Every Thursday (or any Thursday you want to participate), choose a book that features somewhere you'd like to travel to! It could be somewhere you've never been before or somewhere you'd like to visit again.
Include a description of the location and why you'd like to visit!
Link back to me so I can find new blogs to follow (and add new places to my travel bucket list)!
With the Fire on High
Author: Elizabeth Acevedo
Year of publication: 2019
Genre: YA Fiction
Setting(s): Sevilla, Spain
I just finished reading With the Fire on High and I absolutely LOVED it! I knew part of the plot revolved around her taking a cooking class with a travel component to Spain, but I didn't realize it was specifically set in Sevilla! I studied abroad in Sevilla in 2016, and the descriptions immediately brought me back to those months that I spent living there. It wasn't a huge portion of the novel, but it made me long to go back so bad. It's one of the most beautiful places in the world (in my opinion), and Acevedo did an incredible job of describing this gorgeous city.
The majority of the novel takes place in Philadelphia, Pennsylvania. I've actually never been to Pennsylvania and would really like to go someday! But for this particular post, I'll be focusing on Sevilla.
Here are some photos of the beautiful places and foods of Sevilla that are described in With the Fire on High.
"In our room, I notice that the air here smells different. Like oranges."
It's true! There are many orange trees throughout the city, but they are very bitter! They're great for making marmalades though. (And many other things, as we see in the book when Emoni uses them in some of her dishes while in Sevilla!)
"We enter the Alcázar, and I'm surprised; the castle looks nothing like I expected. It's as beautiful as the rest of old Sevilla, but seems to belong to a different country: high arches, six-pronged stars carved into the stone walkway, orange trees blooming along the perimeter."
The Alcázar is probably my second favorite place in Sevilla. It's absolutely beautiful, and – fun fact – some of Game of Thrones was filmed here! If you're a fan of the show, the second photo should look familiar. Stepping into the Alcázar is like stepping into another world. If you ever go to Sevilla, you definitely need to visit this place.
"I've never worked with octopus and I'm fascinated by the vibrant red color of the skin and the slippery feeling of it in my hands."
Picky eaters, hear me out! I tried octopus (pulpo in Spanish) for the first time while living in Spain. And it was delicious! I know it might seem scary, but when cooked well it is so delicious and tender. I was so excited to see this come up in the book because culturally it is an important dish and it was such a transformative moment for me personally during my travels as well.
La Catedral de Sevilla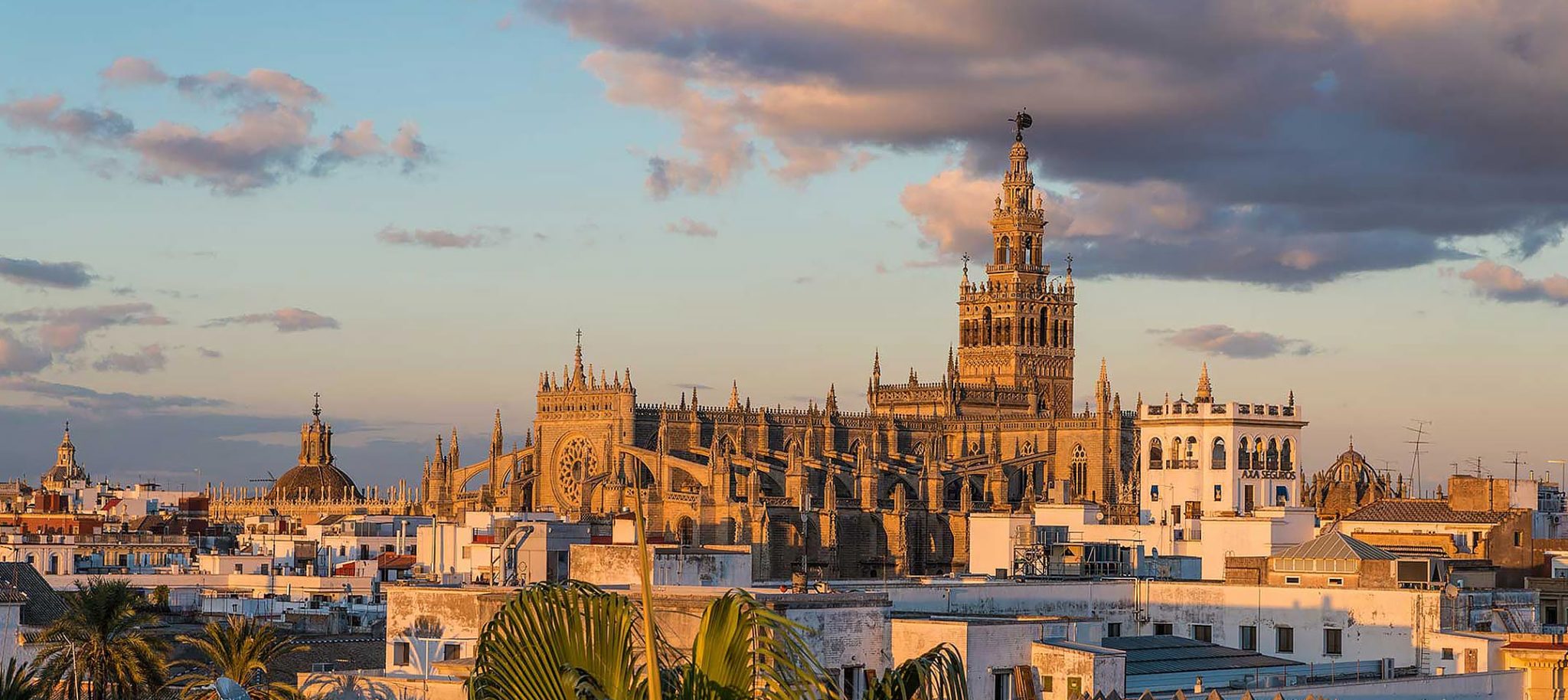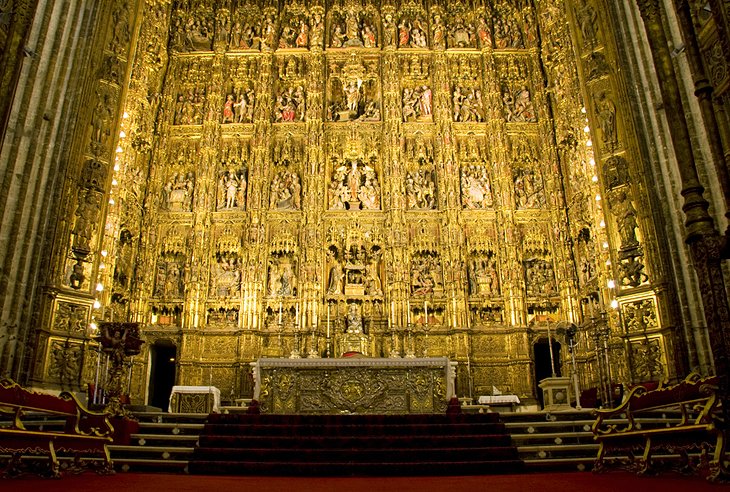 I forgot to write down a quote for this one, oops! However, I remember her description of this location being really vivid and powerful. The inside of this cathedral is filled with so much gold. It also contains a tomb with some of the remains of Christopher Columbus, something in which the Spaniards have much pride. In the book, Acevedo describes how conflicted Emoni feels about the beauty of this place. Columbus was a colonizer who stole land and riches from indigenous people, which is what made it possible for this cathedral (with all its ornate beauty) to be built. Yes, it's beautiful, but it's built on the violence and dark history of years of colonization. Acevedo's description was really moving, and really echoed many of the thoughts I had in the back of my mind while visiting this cathedral.
La Plaza de España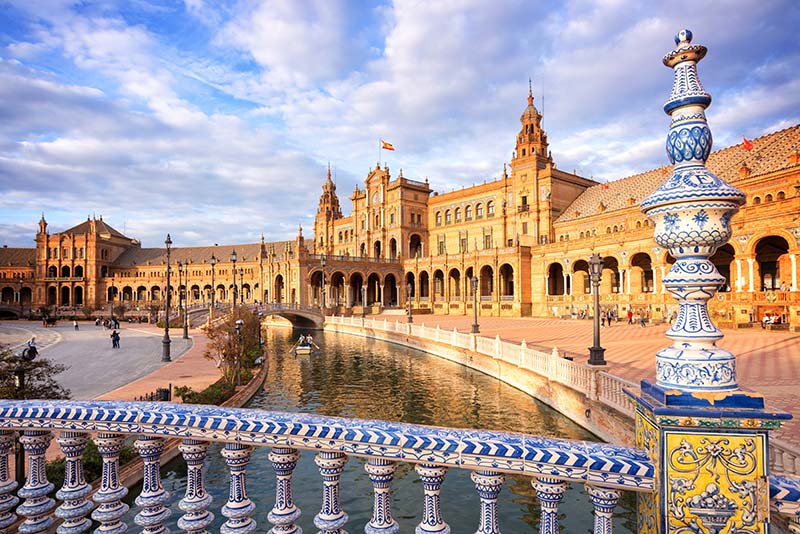 Okay, so this location actually didn't make an appearance in the book but… It's my favorite place in Sevilla (probably my favorite place in the whole world, actually), so I couldn't write a post about Sevilla without including it! It's absolutely beautiful, and – here's another fun fact for you – one of the Star Wars movies was partially filmed here! I dream of coming back here all the time. It's much more vast than you can tell from photos; there's a large garden attached to the plaza as well. It's so beautiful, and a great place to hang out on a warm, sunny day!
Reading With the Fire on High made me want to go back to Sevilla so bad! If you haven't been before, reading this book will give you a good feel for the city! I highly recommend both Sevilla and With the Fire on High, and will be posting a review of the book soon!
I wonder… Where in the world will my next book take me?
Leave a comment below describing your most recent literary travels!