Travel Thursday is a weekly bookish meme that combines two of my favorite things: reading and traveling. The goal is to choose a book that took you somewhere new (or somewhere you'd like to visit again)!
I would love to read more about everyone else's literary travels as well! So here are some general guidelines for Travel Thursday if you'd like to participate!
The Rules:
Every Thursday (or any Thursday you want to participate), choose a book that features somewhere you'd like to travel to! It could be somewhere you've never been before or somewhere you'd like to visit again.
Include a description of the location and why you'd like to visit!
Link back to me so I can find new blogs to follow (and add new places to my travel bucket list)!
The Henna Artist
Author: Alka Joshi
Year of publication: 2020
Genre: Historical Fiction
Setting(s): Jaipur, India
I just recently finished reading The Henna Artist and I really enjoyed it! While the story itself wasn't super memorable for me, the setting definitely stood out. It is historical fiction so it's set in the past, and I'm sure many things about the story (locations, cultural norms, etc.) are either outdated or fictionalized. That being said, I felt so immersed in the story and setting while listening to this audiobook, and it really made me feel like I had been to Jaipur with those characters.
I'm not sure if I'll ever make it to Jaipur in real life, or if the Jaipur I experienced in this book perfectly reflects the one in existence today, but it definitely sparked my interest and made me want to learn more about this city and country.
Here are some present-day photos of Jaipur, India! I also included a map showing the location of Jaipur, as well as some images of henna for those who aren't familiar with it.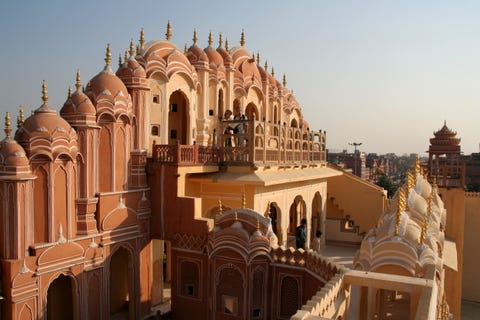 This was a really fun book to listen to! I definitely recommend the audiobook for a more immersive experience.
I wonder… Where in the world will my next book take me?
Leave a comment below describing your most recent literary travels!