Happy October everyone!
September was such a busy month!
Although I technically read more this month than I did last month, it still wasn't my best reading month. Since starting the new school year, I've just been exhausted and drowning in all of the prepping and planning I've had to do. I do most of my reading of physical books at night, but at the start of the school year I'm always so exhausted that I usually fall asleep as soon as I get in bed (which obviously makes it hard to read beforehand). Now that I'm commuting to work again, I am listening to more audiobooks! However, I moved over the summer and now have a shorter commute. Yay for less driving! But it does mean that I don't have as much time to listen to books either.
Oh well! As I settle in to the school year, my body will adjust to the demands of my job and I'll be able to make more time for reading.
I've also just felt a little restless with my reading this month. I'll pick up a book and read a few pages of it, and then the next day I'll feel like reading something else and be tempted to start another book. I don't love reading multiple things simultaneously (other than one physical book and one audiobook), but due to my restlessness I'm currently in the middle of four books! I'm hoping that restless feeling will go away in October.
I'm excited to see what I'll be able to read in October! I'm hoping to wrap up my current reads so that I can get to some of the books on my fall TBR list (HERE).
Without further ado, here is my wrap-up of all the books I read in September:
To learn more about a book, click on the photo to find the Goodreads synopsis.
Stats and Overall Thoughts:
Books read: 6
Physical books: 4
Audiobooks: 2

Fiction: 3
Nonfiction: 3

Average monthly rating: 3.8
Top Book of September: Yes, Chef

*To learn more about a book, click on the photo to find the Goodreads synopsis.
4.5-star books:
Yes, Chef by Marcus Samuelsson (Memoir, Audiobook)

I've discovered that I really love culinary-based memoirs, and this is one of my favorites that I've read so far! I've been a fan of Marcus Samuelsson since I started watching Chopped on the Food Network, and recently I've been trying to get caught up on his literary endeavors. Over the last year, I read his most recent cookbook and listened to his audiobook Our Harlem. I thought this memoir was honest (almost to a fault), informative, well-written, and entertaining. I read several poor reviews of this book that complained about his experience as a father and his treatment of his daughter. While I agree that it was hard to read about the mistakes (and poor choices) that he's made in his life, I don't think it's fair to rate the book based on that. This judgment is of the book itself; I'm not here to rate his life choices. Also, I appreciated his honesty. It's hard not to lose a little respect for him based on some of his choices, but I would have lost even more respect for him if he had just chosen to leave this part of his life out of the book (which he totally could have done). As far as the book itself goes, I loved the descriptions of food and how he described his experience with adoption and family. I enjoyed learning about what it takes to move up in the culinary world and the history behind the way modern kitchens are run. I believe he had a ghost writer, and whoever it was did a great job! I thought it was really well-written and engaging. I would highly recommend this book!
4-star books: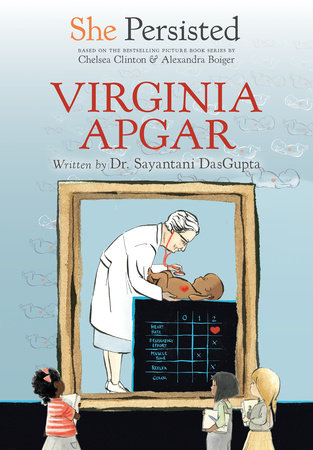 She Persisted: Virginia Apgar by Sayantani DasGupta (Biography, Middle Grade, Paperback)

I really enjoyed this biography! I thought it was an inspiring story and I learned a lot about a woman I had never really learned about in school. My only wish was that it gave more details about her work with infants and what led her to develop the Apgar test. Otherwise, I thought it was an interesting biography and I loved how accessible it was for young readers.

Review coming soon!
Sharp Objects by Gillian Flynn (Mystery, Audiobook)

This was definitely my darkest read of September! While I enjoyed it, I do think it's my least favorite of the three books I've read from Gillian Flynn. I don't mind darker stories, but at times the more disturbing elements of this story just seemed unnecessary. Like they were specifically included to cause discomfort rather than further the plot. I also felt like certain elements of it were predictable, and that the ending felt rushed. However, the familial relationships presented in the story were unique, twisted, and compelling. They definitely were the most interesting part for me. While it may not have been my favorite, it did manage to capture my attention during a reading slump, and I think there's something to be said for that!
3.5-star books:
She Persisted: Claudette Colvin by Lesa Cline-Ransome (Biography, Middle Grade, Paperback)

Unfortunately, I didn't enjoy this one quite as much as I enjoyed the one about Virginia Apgar. I just felt that it was really lacking details. I never really felt like I knew all that much about Claudette Colvin other than that she was religious and cared about justice and equality. That being said, I was fascinated to learn that she refused to give up her seat on the bus before Rosa Parks ever did, since that's always the narrative that's taught in school. I still think it's a story worth learning about, and I think it'll be enough to spark the interest of young readers. However, I was just a little disappointed by it.

Review coming soon!
Garvey's Choice by Nikki Grimes (Realistic Fiction, Middle Grade, Hardcover)

I'm not quite sure what to make of this one! I loved the themes and the overall concept, and I thought the tanka style of poetry was really interesting. However, I'm just not sure it was executed as well as it could have been. The characters and relationships never felt fully developed, and as I was reading it felt more like a montage than a complete story. I was just never able to be fully immersed in it, which is unfortunate considering how relatable the themes are (body image, parental expectations, bullying, etc.).

Review coming soon!
American Born Chinese by Gene Luen Yang (General Fiction, Young Adult, Paperback)

This was such an interesting graphic novel! I originally got it thinking it was a middle grade book, and it seemed interesting so I held on to it to read it for myself before adding it to my classroom library. And thank goodness I did, because this is definitely not middle grade! It's very YA, with sexual innuendos and references to other adult-ish material. It's not over the top by any means, but definitely not appropriate for an elementary school classroom. Personally, I enjoyed it! It was a really interesting combination of fantasy/mythology and realistic fiction. I liked the artwork and thought the author did a good job of cleverly tying three different narratives together. My biggest issue was that it just wasn't very memorable for me. Even now as I'm writing this (maybe a week after finishing it), I'm having a hard time remembering it. When I got to the end I just wasn't sure what I was supposed to be taking away from the story. But still, it was a fun and clever idea for a story, and it's such a quick read that I'd recommend it for anyone who's curious about it!
How did your reading go in September? Any stand-out books to recommend?
Let me know in the comments! And thanks for reading (my blog, but also just in general)!