Happy November everyone!
I can't believe how fast October went! September felt so slow, but then October just flew by.
I still didn't read this much as I would've liked this month, but I do feel like I'm finally starting to get out of my reading slump. Hopefully with having a little time off from school in November and December, I'll be able to get back on track.
Even though I only read four books, I'm glad I managed to read one nonfiction book! My goal was to read more of this genre this year, and I have definitely done that (and have really enjoyed it)!
I also managed to read one spooky read in October (Mexican Gothic), and it was fantastic! This was definitely what helped start to pull me out of my reading slump. I was hoping to also finish Cemetery Boys this month, but I'm not quite going to be able to finish it in time. But that's okay! Día de los Muertos is during the first couple days of November, so hopefully I can finish it then.
Without further ado, here is my wrap-up of all the books I read in October:
To learn more about a book, click on the photo to find the Goodreads synopsis.
Stats and Overall Thoughts:
Books read: 4
Physical books: 2
Audiobooks: 2

Fiction: 3
Nonfiction: 1

Average monthly rating: 3.9
Top Book of October: Mexican Gothic

*To learn more about a book, click on the photo to find the Goodreads synopsis.
4.5-star books: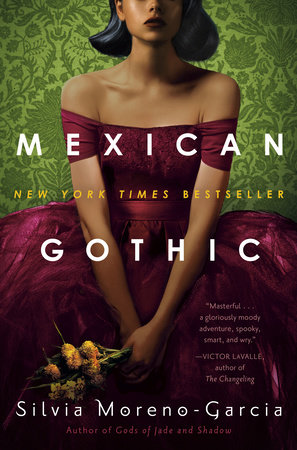 Mexican Gothic by Silvia Moreno-Garcia (Horror, Paperback, ARC)

Wow! This book was unlike anything I've every read before, and I thoroughly enjoyed it. There isn't much I can say without spoilers, so I'll be brief here. My only small issue was just that it felt slow at first (maybe for the first 1/3 or so), but I do think it was worth it to spend the time creating the mood and establishing the characters. But since it was slow, I think there was some information that I got in the beginning that I had forgotten about when it came up again at the end. However, I'm truly nit-picking here because this book was creepy, gripping, atmospheric, and so well-written. I'd definitely recommend it!
4-star books:
In the Midst of Winter by Isabel Allende (Realistic Fiction, Audiobook)

I really enjoyed this one! I own several books by Isabel Allende (including one I was supposed to read in high school and never did, whoops!), but this is the first one that I've actually managed to read. And I have to say, I'm really looking forward to reading more of her work! That being said, I did have some minor issues with this one. The most important thing to note about the structure of this story is that it is narrated by three different characters, and their backstories are woven in with the current storyline (in which all three characters have been brought together). All of their backstories were incredibly fascinating, but unfortunately the storyline that brought them all together was a little bit predictable and far-fetched. Also, while I appreciated the attempt at diverse representation and inclusion of social justice themes, I felt like it was pretty heavy-handed at times to the point of feeling didactic. Some of those themes included gender and sexuality, immigration, and more. While I agreed with what the author was trying to do, it just felt a little forced. Overall, the characters are this novel's strength. They're well-developed and complex, and even though they're morally grey you can't help but root for them. Even with its flaws, I would still recommend this one!
An Astronaut's Guide to Life on Earth: What Going to Space Taught Me About Ingenuity, Determination, and Being Prepared for Anything by Chris Hadfield (Memoir, Audiobook)

This was a well-written memoir that was full of heart. On a personal level, it made me realize that I, unfortunately, don't seem to have a ton of interest in space. So I found myself spacing out occasionally with this book. But it wasn't the book's fault! It was interesting to learn what astronauts spend the majority of their time doing, because they don't actually spend most of it in space. It was fascinating to learn what else astronauts can do even when they're on Earth. This book also had some interesting life lessons that have stuck with me including (and I may be paraphrasing here): "Be prepared, work hard, enjoy it," "sweat the small stuff," and "the power of negative thinking." Basically, Hadfield advocated for being prepared for anything, and how it's hard to do this without worrying about the little things and thinking about all the possibilities (including the negative ones). If anything, it at times felt a little repetitive and overly long, and the optimism and sunshiny positivity was a little cloying at times, but it truly was an enjoyable and uplifting book!
3-star books:
The Fourteenth Goldfish by Jennifer L. Holm (Science Fiction, Middle Grade, Paperback)

I desperately wanted to like this one, but I just had so many conflicting feelings about it. I loved how it focused on science, and especially how it represented girls loving science! That's not something you see often in middle grade (or adult) books. I was hoping this would be a fun read-aloud I could do with my class this year, but… There were several things that came up while reading it that made it clear that this would be unfeasible. I'll get into more detail in my upcoming review, but generally my issue was that parts of it seemed overly simple and more appropriate for younger readers, but then other parts included language and references more appropriate for mature readers. I just could not figure out who the intended audience was, and it really threw me off while reading. However, there were still some interesting themes in there, and it was an interesting concept for science fiction! Review coming soon!
How did your reading go in October? Any stand-out books to recommend?
Let me know in the comments! And thanks for reading (my blog, but also just in general)!