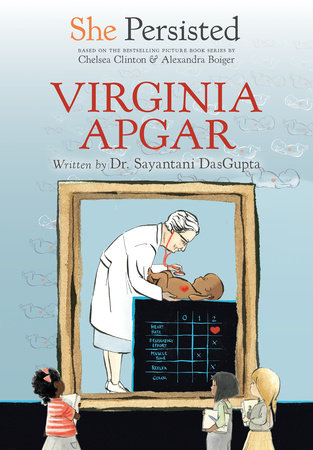 Book Details:
Year of Publication: 2021
Genre: Biography (Middle Grade)
Format (How I Read It): Paperback
Goodreads Synopsis:
Inspired by the #1 New York Times bestseller She Persisted by Chelsea Clinton and Alexandra Boiger comes a chapter book series about women who stood up, spoke up and rose up against the odds!
In this chapter book biography by bestselling author and physician Sayantani DasGupta, readers learn about the amazing life of Virginia Apgar–and how she persisted.
There weren't many women who tried to become doctors when Virginia Apgar went to medical school–but she didn't let that stop her. After a professor discouraged from becoming a surgeon, she became an anesthesiologist instead and created the famous Apgar test to check the health of newborn babies. It's a test that's still used in hospitals across the world today!
Complete with an introduction from Chelsea Clinton, black-and-white illustrations throughout, and a list of ways that readers can follow in Virginia Apgar's footsteps and make a difference!
Book Review
Themes/Main Ideas: Never stop learning. Don't let anything stop you from achieving your dreams.
Character Development: I felt that the story was a little repetitive at times in its attempt to highlight Apgar's personality traits and her beliefs, but it was still good! She was a fascinating woman and it was nice to learn about her family, students, and career.
Plot/Pacing: Although we learn a lot about the overall trajectory of Apgar's life as well as what she was like as a person, we don't actually get to learn much specifically about her work with infants (which is what she was famous for). It of course mentions the Apgar Test, but it doesn't really include any information about how she actually developed the test. Otherwise, it was a short book (like the others in the series) with short chapters, which I felt helped it stay engaging throughout!
Writing Style: Approachable and engaging.
"Bingeability": High.
Emotional Investment: Moderate.
Windows and Mirrors: Female doctor. Sexism in the workplace & academia.
Overall Thoughts: It was really inspiring! Although it may not feel as satisfying for an adult reader, I do think it would be perfect for its target audience of young readers. It's inspiring, educational, and you learn a lot without feeling inundated by too much information.
Recommendation: This book would be great for the classroom! Read-alouds, book clubs, independent reading, teaching about biographies… It really could be used in so many different ways.
Thank you for reading my review! Leave a comment letting me know if you've read this one or have any questions about it, and keep an eye out for my next review!